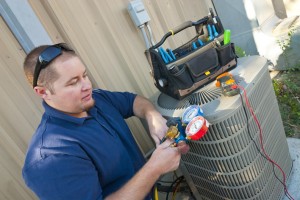 If you have already spent even a single summer in this area, then you certainly do not need us to tell you just how hot and how humid the weather can be during the summer season. Ensuring that you are able to cool your home successfully should be a top priority. If your solution for beating the heat is to install multiple window unit air conditioners throughout your house, we urge you to reconsider. There is a much better way in which to cool your home, and that is by using a central air conditioner in Chapin, SC.
A central air conditioner is superior to window units in pretty much every way. While using a window mounted air conditioner may be fine for cooling a small studio apartment or a dorm room, it really is not a viable solution for cooling an entire house. Consider the following benefits of choosing a central air conditioning system, and contact our team to schedule service or to ask any questions that you may have. 
Energy Efficiency
There are a number of efficient window air conditioners on the market today. However, cooling an entire house with the level of heat and humidity that we experience can negate the gains offered by even these very efficient systems. Not only are there very efficient central air conditioning systems on the market today — look for high SEER ratings and ENERGY STAR seals — but central air conditioners are also sized for the homes in which they are installed. That means that your system is not going to be running constantly as it struggles to cool your home down. It will run in an effective cycle, and come back on as needed. This helps to save energy so that you can cool your home affordably.
Air Quality
There is a good chance that you are going to want to run a dehumidifier in your home. We simply have so much moisture in the air that muggy conditions and the problems that they cause can prevail. That being said, if you don't want to invest in a whole-house dehumidifier, a central air conditioner can offer some dehumidification. Moisture is drawn out of the air as an AC cools a home, and a central air conditioner running in full, regular cycles can remove humidity better than window units.
Security, Comfort, Convenience
Window units, to put it bluntly, are just kind of a pain. Every summer you'll have to get them out of storage, lug them around, and put them in. When the cooling season ends, you'll have to take them back out. They won't cool your home as effectively as a properly sized and well-maintained central air conditioner, and they leave your home unsecured. We believe that you deserve better than this. There are a lot of great central air conditioners out there to consider, along with other options like heat pumps and ductless mini splits. Work with us to guarantee successful cooling this season, and for many more to come.
Fulmer Heating & Cooling can handle your AC service needs.