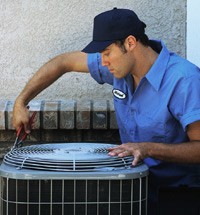 We're rapidly approaching the hottest, most humid stretch of the air here in South Carolina, and that means one thing for certain. You need your air conditioning system to function at its very best. Obviously, an AC that is blowing warm air is not going to fall into this category. There are many different reasons why an air conditioner may start to blow warm air, and not all of them are very serious. Many can be resolved with some very basic troubleshooting on your part.
That being said, there are also some rather serious problems that could result in warm air blowing from your air conditioner in Chapin, SC. That is why you should dial our number if there is no obvious cause of the issue. The last thing that you want to do is risk the condition of your air conditioner, as well as your own comfort, by ignoring this sign of potentially serious operational problems. So why might an AC blow warm air?
Best Case Scenarios
Okay, so an air conditioner that fails to sufficiently cool your home for any reason is not really a "best case scenario." However, there are definitely situations that are preferable to others. Before panicking and deciding that your air conditioner needs professional repair services, do yourself a favor. Check the thermostat.
We know that this sounds obvious, but it is something that many homeowners may fail to consider in a time of apparent crisis. It is possible that your thermostat was accidentally set to a fan-only mode. Do you use a heat pump? Then the system may even have gotten switched over to its heating mode. Whatever the case, you don't really need a professional technician to come to your home just to reset your thermostat.
Nor, for that matter, do you need us to come and flip a breaker switch for you. Some homeowners don't realize that their indoor and outdoor AC units (almost certainly) run on separate circuits. That means that it is possible for your indoor unit and its fan to be up and running, while the outdoor unit is sitting outside and doing nothing at all. That leaves the indoor unit to circulate unconditioned air throughout your home. This problem can be resolved by resetting the appropriate breaker.
Potentially Serious Issues
Unfortunately, warm air blowing from your AC may mean that you have a more serious problem to deal with. A refrigerant leak is one possibility, and this is an issue that is best resolved immediately. Your air conditioner evaporates refrigerant in the indoor evaporator coil, which allows heat to be drawn out of the air in your home. The cooled air is then redistributed throughout the house, while the heat in the refrigerant is vented outside as that refrigerant is condensed. If there is not enough refrigerant in the system, this heat transfer process will be impeded.
You may also have issues with your air ducts, including tears, poor connections, etc. That could allow them to draw hot air into the system, which will increase the temperature of the air coming from your vents. This will require professional duct repairs or sealing to resolve.
Schedule your HVAC services with the professional technicians at Fulmer Heating & Cooling.