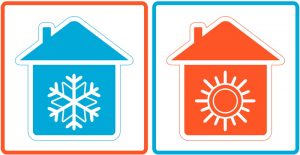 Are you unhappy with the heating system in your home? Maybe your home isn't heating well during winter, your heating bill is too high, or you just have a system that's too old and out of date. No matter what the reason is, upgrading to a new system when the time is right is a great idea. Make sure that you consider a heat pump for your home. Heat pumps are energy efficient, eco-friendly, and great for homes here in Irmo.
If you're unsure that a heat pump could be right for heating your home, contact our team. Our team here at Fulmer Heating & Cooling can come to your home, assess the needs of your heating and cooling system, and match you with the best make and model of heat pump for your needs. If you need an Irmo HVAC contractor, then contact our team today to schedule an appointment.
How a Heat Pump Works
You might have heard of a heat pump before, but do you know how these systems work? Most homes across the country choose to install furnaces for their heating needs, but heat pumps are a great alternative.
Heat pumps don't generate heat like a standard furnace, instead they move heat from place to place depending on when you need it. Heat pumps have the ability to heat and cool, but when they're functioning in heating mode, they bring in heat from outside to the inside of your home. There is always heat in the air outside no matter how cold it is, so a heat pump can always work for your home.
The Benefits of a Heat Pump
Still not convinced that you should switch to a heat pump? Here are some other very compelling reasons to install a heat pump in your home.
Two in One Comfort: Heat pumps are great because you can heat and cool your home with one device instead of buying a furnace and an air conditioner. A heat pump is able to both heat and cool your home because of the reversing valve in the refrigerant line. The reversing valve in a four-way valve that can reverse the flow of refrigerant to switch the heat pump from cooling to heating.
Energy Efficiency: The best reason to upgrade your home to a heat pump for your heating needs is the energy efficiency. Since heat pumps don't generate heat, they're much more efficient than other modes of heating when creating warm air. Heat pumps are more expensive to install up front, but you'll save a significant amount of money during operation.
Cost Savings: When you save energy, you save money. These two things always go hand in hand when it comes to your HVAC services. The monthly decrease in energy bills is a huge benefit, especially because you can use this eco-friendly, energy efficient system for your heating and cooling needs.
Choose Fulmer Heating & Cooling for Your Heat Pump Needs
Heat pumps are a great system for your home. Our team will ensure that you have the best installation, repair, and maintenance services possible for your heat pump. If you need help choosing the right make or model for your heat pump, we can help with this process too. We work alongside all the best brands like Carrier, Daikin, and WalterFurnace.
If you want to install a heat pump in your home this winter, contact Fulmer Heating & Cooling today to schedule an appointment.