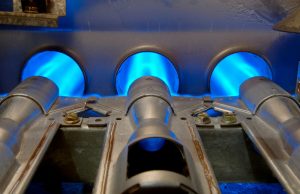 Heating your home in South Carolina effectively and reliably is very important. Will your heater see the same amount of use as your home cooling system? No, probably not. That doesn't make it any less important, though. If you want to live comfortably in your home when temperatures drop, then you need a great heater at your disposal!
Today, many homeowners are opting for a furnace system in their homes—and for great reason! Our heating professionals make it easy to install a new furnace system in your South Carolina home. Whether you decide to purchase an electric or gas system, you will enjoy the benefits of a furnace. Plus, we'll help you to choose the right system for your home.
What Is a Furnace?
Well, a furnace is a forced-air heating system. It warms your home by distributing heated air through a network of ducts. This is different from a radiant system, like a hydronic heating system using a boiler.
There are several different types of furnaces, meaning they each run on a different fuel type. Speaking with a qualified heating technician can help you make the right decision for your home.
Why Choose a Furnace?
It's Efficient
A furnace system with an AFUE, or annual fuel utilization efficiency, rating above 90% is an efficient option. This can save you and your family a lot of money! An electric furnace system has an AFUE rating between 95% and 100%. This means that over 90% of the energy in the fuel becomes heat for your home.
Our heating professionals can help you select a high-efficiency furnace to save you money and go green!
It Can Share Ductwork with a Central AC
That's right. An advantage of using a forced- air heating system in your home is that it makes installing central air conditioning simple and affordable. Adding a central air system is easy if you already have a furnace system—you won't need additional ductwork or vents.
It's Fast
Other heating systems don't offer the fast comfort that a furnace system can. Furnaces have a fast start-up, so you will be feeling warm and cozy in no time! There are a lot of benefits to be had when using a radiant heating system, for instance, but you won't get the prompt temperature adjustment that you do with a furnace.
It's Safe
Yes, we can understand that you might fear a potential carbon monoxide leak. We want you to know that this is a rare occurrence, and it can only happen in a gas-fueled system. With regularly scheduled maintenance you can avoid leaks altogether! Purchasing an electric furnace system will also rid you of any risks!
It's Affordable
Although some high-efficiency furnace systems can be a little pricey to purchase, properly maintaining your system costs a lot less than other heaters. Plus, the average cost of repair is a lot lower too! With our excellent furnace repair in Columbia, SC, you will never have to worry!
If you are considering a new furnace, look Where Quality Counts. Contact Fulmer Heating & Cooling today!