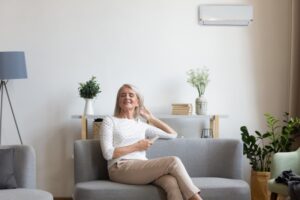 Summer is just around the corner and you know what that means for South Carolina homeowners. It means you really need to be able to depend on your air conditioner to keep your home and family comfortable. Now's a great time to assess its performance.
If spring snuck up on you and you forgot to schedule maintenance, there's no better time than the present! Air conditioning maintenance in Pomaria, SC is the best thing you can do to ensure that your AC will see you through the next six months of hot, humid weather. Let's discuss the reasons why you should get your AC tuned up if you haven't already.
Get It Done Before Summer Starts
There's a reason why we recommend AC maintenance in the spring. Now is really the best time to schedule maintenance because it'll give your air conditioner the best chance of making it through the summer without any hiccups in performance.
It's also when our technicians are less busy because we're not getting a lot of requests for installations and repairs.
Fewer Repairs and Breakdowns
Speaking of repairs, did you know that 80% of the AC systems that break down are ones that haven't received annual maintenance? When you don't have your AC tuned up, you're gambling with its performance every day. The odds aren't on your side when it comes to avoiding a complete breakdown in service on the hottest day of the year.
Just as unappealing is the possibility of being stuck not just with a broken-down AC, but a costly repair bill as well that could've been avoided. Instead of sweating through both a muggy day and an expensive repair, you can hopefully avoid this by scheduling AC maintenance.
Maintenance Pays for Itself
You might think that maintenance is another unnecessary service and that your money is better spent elsewhere. However, maintenance pays for itself in many ways. When you have your AC maintained regularly, it extends its lifespan. That 10–15 year lifespan estimate for your air conditioner only applies to systems that are maintained on a regular annual basis. 
And if you have a heat pump, it needs twice-a-year maintenance. Don't run the risk of needing an early AC replacement by neglecting this essential service. If your AC or heat pump is under a warranty and you don't get it maintained, you run the risk of voiding the warranty.
Increased Home Comfort for Everyone
You pay a lot for utilities, especially in the summer when your AC seems like it's running non-stop. Maintenance gives you the most bang for your buck. When your AC is maintained, the knowledge that you've done everything you can to ensure your AC is running at peak efficiency should give you peace of mind.
After maintenance, you will be impressed with your AC's ability to cool your home down quickly, efficiently, and effectively. When you have your system thoroughly inspected and tuned up by our NATE-certified technicians, it'll be in peak condition when you need it most.
Contact Fulmer Heating & Cooling for air conditioner maintenance today!