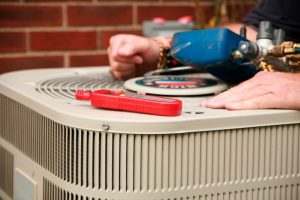 Look … we get it. Your air conditioner has started acting up during the highest heat of the summer and you're not thrilled about it. Your irritation is twofold—you don't want to go without cooling during hot weather and you also don't want to come out of pocket to pay for an unexpected air conditioning service. We know how tempting it is to turn to a resource like the internet. There are more resources online now more than ever. Just a quick keyword search can bring millions of great results right to your fingertips in seconds. We want to underscore the fact that no online article or video tutorial can ever give you the expertise of a trained air conditioning professional.
Just because you can do something doesn't mean that you should. If you need air conditioning repair in Lexington, SC, make sure that you contact our air conditioning professionals.
Why DIY Is a Bad Idea
Wondering why DIY services are such a bad idea? Here are a few reasons:
You're Not a Professional
Now we're not trying to belittle your abilities and we know that there are plenty of great resources available to you, but you should always enlist the care of a professional when you want good service for your air conditioning system. When you hire a professional HVAC technician, we'll make sure that your work gets done the right way the first time without any incident. We service a lot of homeowners in the area after they've already tried to DIY their air conditioning services. Instead of trying to work on your air conditioner on your own and then hiring a professional afterward to clean up the mess, just make sure that you contact our professionals the first time around.
You Can Make the Problem Worse
It's always easy to start on your air conditioning services and then realize that you're in way over your head. We've all been here before. Sometimes those online tutorials make things look a lot easier than they are. Don't end up stressed out in the middle of a sea of air conditioning parts. Let our talented and professionally trained air conditioning technicians service your system so that you can avoid a headache. If you're spending money getting all the parts and supplies to DIY your home air conditioning services and then have to contact an air conditioning professional in the end, you're doubling your costs.
You're Risking Your Health
We're not here to fear monger—we're not trying to say that your air conditioning system is inherently dangerous. However, it can be a risk to your health. Let's say that you have a problem with your refrigerant and it's leaking out of your air conditioning system. You need a professional to service this type of system. Refrigerant, also known as Freon, is a highly toxic chemical. Exposure to this type of Freon can lead to a variety of health issues. Bypass all this potential trouble by scheduling an appointment with our air conditioning professionals.
Contact Fulmer Heating & Cooling today to schedule an appointment for air conditioning repair.