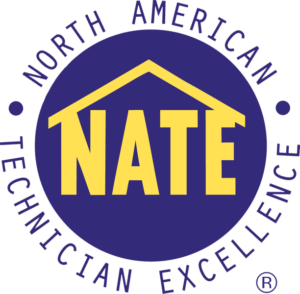 When you need air conditioning repair in the heat of summer, you might be tempted to just choose the first option in your search results. However, doing so can result in having someone who isn't fully qualified to work on your AC. 
There are a lot of factors to take into consideration when choosing an HVAC company to handle your expensive home comfort systems and it pays to do a little research. Many people know that they should look for an HVAC contractor who hires technicians who are licensed, insured, and background-checked. But what other important qualifications should you be looking for?
In your search for a qualified air conditioning contractor, you may come across the terms "NATE certified." Having this qualification is highly desirable and we're not just saying that because our technicians are indeed NATE-certified.
Let's look at what exactly NATE-certified means and why you can feel confident about hiring a contractor with this qualification.
What Is NATE Certification?
NATE stands for North American Technician Excellence. NATE is the largest non-profit heating, ventilation, air conditioning, and refrigeration (HVACR) organization in the US. Homeowners who hire NATE-certified technicians can feel confident that a well-trained and highly experienced technician will be working on their home comfort systems. In fact, the goal of NATE is for homeowners to have peace of mind about their technician's skill level and abilities. 
What's Required to Obtain NATE Certification?
For technicians to become NATE-certified, they must have 2 full years of HVAC experience in the field. They must also pass a rigorous series of exams. These exams are created by a nationwide committee of HVAC experts who draw from their own real-world experience in developing the exams. If a technician passes all the exams with a score of 70% or higher, they become NATE-certified.
What's Required for Continued NATE Certification?
One of the great things about NATE certification for homeowners is the fact that once a technician is qualified, they must complete continuing education to keep their skills updated. This is highly important in the fast-changing world of HVAC where technology is advancing at a rapid pace.
NATE certification only lasts for two years. As the 2-year mark approaches, the technician is required to complete continuing education or retake a specialty exam to maintain their certification. This ensures that their skills are up to date and that they possess a demonstrated knowledge of today's increasingly sophisticated HVAC systems.
This requirement for continuing education should provide extra confidence that you're choosing a qualified HVAC contractor. Many technicians can pass initial exams, receive their license and certification, and then never make an effort to learn more about HVAC throughout their career.
The Bottom Line
We know you have a lot of choices when it comes to hiring a contractor for AC repair. With our qualifications and the fact that we've been in business since 1985, we hope you'll give us the chance to be your AC contractor of choice.
Contact Fulmer Heating & Cooling for air conditioning repair in Pomaria, SC!